Tara Lipinski
The Olympic skating champion talks about the thrill of competition and the value of a great smile

"There's nothing better than going to the dentist! I feel that when I walk out, my teeth are instantly brighter and it feels so clean and good—it feels like going to the spa!"
Part of the fun of watching the Olympics is trying to imagine what it would be like to achieve world-class athletic stardom. Figure skater Tara Lipinski, 35, is one of those rare people who actually knows how it feels. Now a television personality, Tara became the youngest-ever gold medalist in an individual Winter Olympics event—exactly 20 years ago in Nagano, Japan. But as a little girl growing up in Sewell, New Jersey, she watched the games on TV just like everybody else. Her favorite moment was always the medal ceremony.
"My dad would let me stand on a little Tupperware container for the national anthem," she recalled in an interview with Dear Doctor. "I was very young, so I don't think I really knew what was happening. It just seemed so big, and I loved when these athletes stood up there with their hand across their heart and the national anthem would play."
When Tara won the gold at Nagano, she found that no amount of standing on Tupperware could have prepared her for that moment.
"When you're standing on the podium and they put that medal on you, there is really no feeling that can come close to that," she said. "You train so many years, so many hours, so many days, all of these ups and downs and tears and doubts that this dream will never happen. And then you go out one night and in a matter of four minutes, your entire life changes."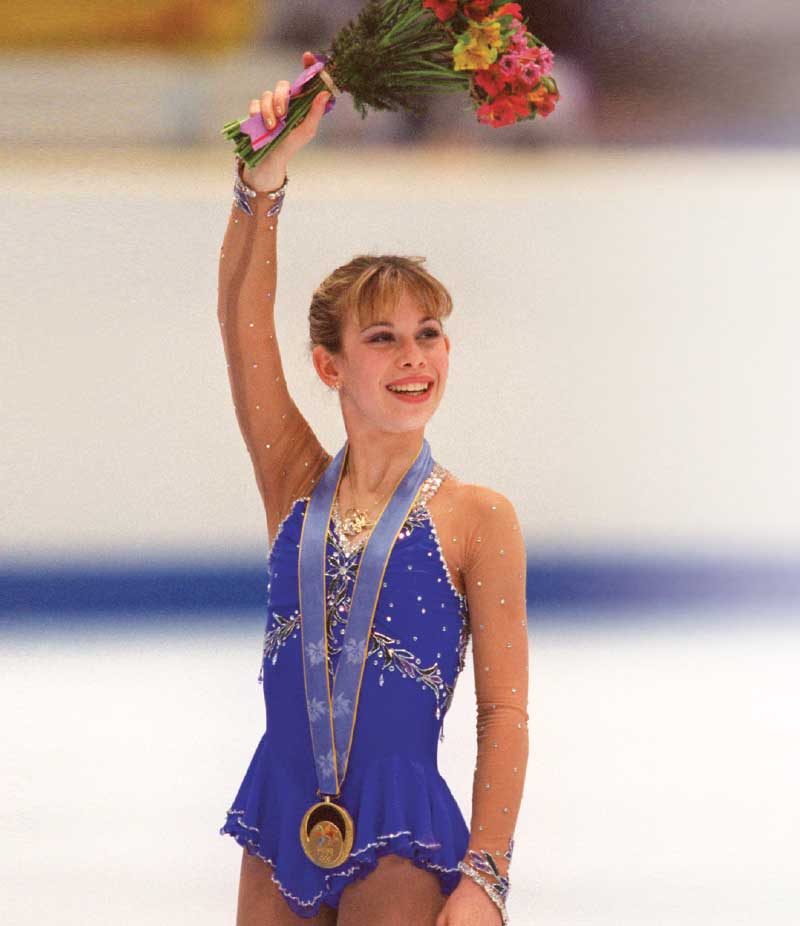 Photo Credit: PA Images / Alamy Stock Photo
As an Olympian, Tara finally understood what had drawn her to that ceremony from the beginning:
"Watching the American flag raised and hearing your anthem, you just realize it's so much bigger than you, than your sport," she said. "And you just feel so proud to represent your country."
Tara is still representing her sport and her country as an on-air figure skating commentator for NBC's primetime coverage of the 2018 Olympics in Pyeongchang, South Korea. In addition to her insider's knowledge of figure skating and steady grace under pressure, she brings another asset to the job: her enthusiastic smile.
"It's so important to have a great smile," she said. "I was always, as an athlete, smiling non-stop. I wore my heart on my sleeve. [My smile] showed the joy and passion and love that I had for my sport, and it was so genuine and real. I love to smile, and I think it's important—especially when you're on-air."
Tara treats her smile like the valuable asset it is. She flosses and brushes at least twice a day, and uses a tongue scraper for extra freshening up. This is a small, handheld oral-hygiene device available in drug stores that removes bacteria and debris from the surface of the tongue.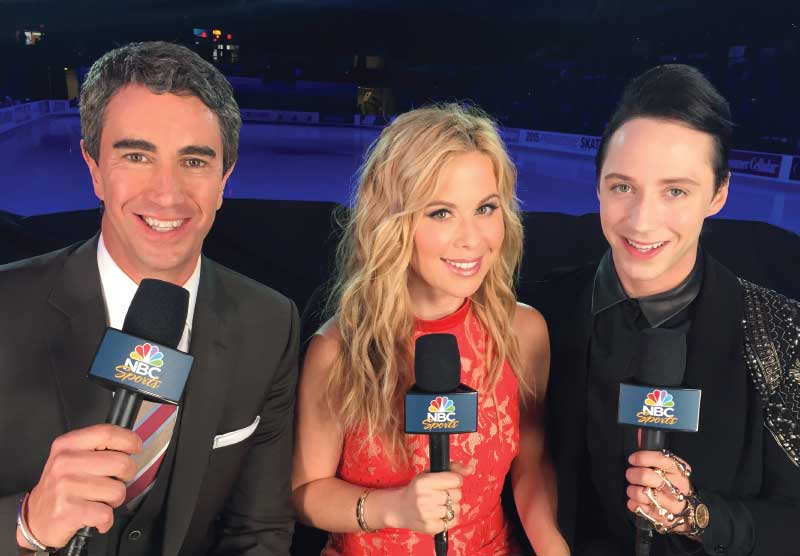 NBC's Olympic figure skating primetime coverage team: Terry Gannon, Tara Lipinski and Johnny Weir
"I can't go anywhere without my tongue scraper," she said. "All of my friends are hooked now. How I lived without a tongue scraper before—I have no idea!"
Tara also makes sure to see her dentist twice each year for routine cleanings and exams.
"There's nothing better than going to the dentist!" Tara declared. "I feel that when I walk out, my teeth are instantly brighter and it feels so clean and good—it feels like going to the spa!"
For some extra brightening, Tara has opted for professional teeth-whitening treatments.

"I have had teeth whitening a few times, which I loved."
"I have had teeth whitening a few times, which I loved," she said. "I went to my dentist and they did a professional treatment. And then I had at-home kits that I would use. I loved it, and it was so easy—especially the at-home one." Tara said she felt the at-home kit provided by her dentist was gentler on her teeth, which can sometimes be sensitive. "It's a good way to—every couple of months—get a little bit of a whiter smile," she said.
Another way Tara protects her teeth is having a custom-made nightguard on hand.
"There are times that I do grind my teeth something terrible, so I will use a mouthguard at night as needed," she said. "My dentist did a custom-made mouthguard, so it fit perfect and it was easy to put in."
Tara thinks her grinding habit could be related to constantly being on the go and the stress of travel, though she says being a commentator is a lot less stressful than being a competitor. In fact, primetime Olympic commentary is her dream job.
"I love being on the other side of it!" she said. "The nerves aren't as bad but, again, we're on live television so there's still some adrenaline pumping, but I think that's what I live for. I love to compete, I love to perform, and in a way, when we commentate, it's a performance. It's trying to bring the viewers in and teach them and educate them and also have a good time with them while we're watching a competition."
Tara shares the primetime spot with veteran sportscaster Terry Gannon and her best friend Johnny Weir, also a former Olympic skater. This past June, Johnny served as Tara's "bridesman" when she wed sports producer Todd Kapostasy in Charleston, South Carolina. The newlyweds make their home in Los Angeles. When Tara talks about married life, her smile is as bright as it gets.
"It's fun to see him wearing his ring, it's fun to hear someone call me Mrs. Kapostasy, and just enjoy those newlywed moments," she gushed.
Being married has also given Tara a new appreciation for the sacrifices her parents made in the years leading up to her Olympic victory. At age 11, she moved with her mom from the family's home in Texas, where her father (an oil-company executive) had been transferred, to Delaware and then Michigan to train. This meant that her parents had to remain separated for four years.
"It was very difficult, and I know those years were so hard on my mom," Tara recalled. "But I think they both really believed in me and in my dream."
Tara said being away from home was hard for her as well: "I would talk to my dad every night, but I didn't see him."
Reuniting the family was a major consideration for Tara after winning the gold in 1998. She decided to turn professional immediately rather than return to the Olympics in another four years.
"After I won, I was so young, I was 15, I could have kept going," she said, "but there was something so rewarding when I finished and I knew that my mom and dad were going to go back to a normal life and become a unit again, and they were so happy that even at that age I enjoyed that."
So would she be able to make the same sacrifice for a child of her own?
"I can't imagine living away from my husband," she said. "But I do think I would follow in my mom's footsteps."
The reason, Tara said, is that she knows what it means to have a dream come true. Achieving gold at the Olympics "changed my life, and it's made me who I am, and made me a very happy person because of that—just the opportunities and where my life has led since that win," she said. "I'm so grateful they did that, so I hope that when I have a child, I'll do the same."
Tara is indeed a very happy person. So much so that it's hard for her to name just one thing that makes her smile.
"Everything makes me smile!" she exclaimed. "I am that person who's always smiling."